Interpretive solutions for state and heritage parks
Located just southwest of Houston, Brazos Bend State Park was recently named one of the top ten State Parks in America by National Geographic Traveler Magazine and is a haven for all kinds of birds and other wildlife.
Interpretive Insights created engaging educational signage for installation in a butterfly garden near the popular visitor center at the park. This special garden was created as a waystation for monarch butterflies and our interpretation at this site helps visitors learn more about this amazing species and why it is now threatened with extinction. 
Interpretive Insights developed engaging trailhead signage for the Shadow Creek Ranch Nature Trail in Pearland Nature Park. These panels help orient visitors to the site, provide an overview of recreational opportunities, and also help raise awareness of wetlands and their importance to us all.
We also developed signage to interpret newly installed floating wetlands at the John Hargrove Environmental Complex in Pearland, Texas.
Dinosaur Valley State Park –
Interpretive Park Signage
Interpretive Insights developed a series of stunning new interpretive panels for Dinosaur Valley State Park, one of Texas' most popular state parks. These included original artwork featuring two of the dinosaurs that roamed this area millions of years ago, and interpretation of dinosaur tracks and geology along the Paluxy River.
Interpretive signage along the Texas-Mexico border in Big Bend Ranch State Park interprets important natural resources in the Rio Grande Valley.
Interpretive signage installed on a bluff over Wright Patman Lake in Atlanta State Park features white pelicans and bald eagles that overwinter in this part of Texas.
Elegant signage designed for the City of Denton's Clear Creek Natural Heritage Area focuses on interpretation of natural resources and also supports the City's sustainability initiative.
Working in partnership with the Texas Master Naturalists, Interpretive Insights developed colorful, habitat-themed signage and a new logo for Seabourne Creek Nature Park. Visitors can now learn more about nature and sustainable living close to home.
Missouri City, Texas –
Trailhead Signage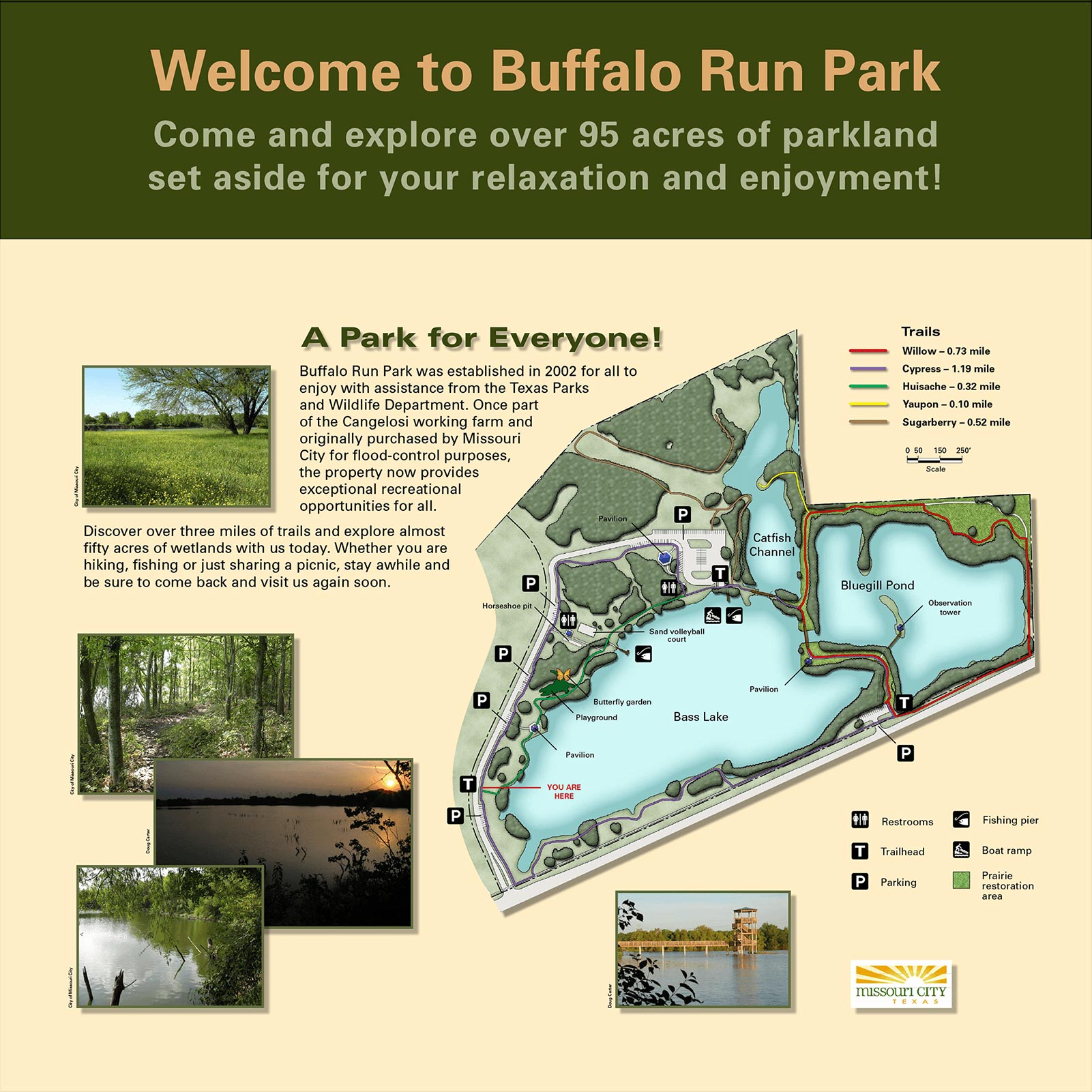 Interpretive Insights developed engaging trailhead signage for Buffalo Run Nature Park for Missouri City, Texas.